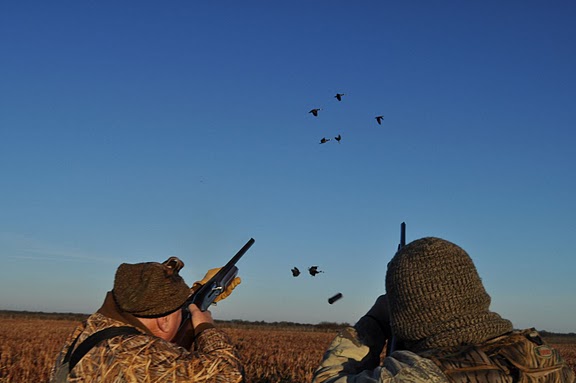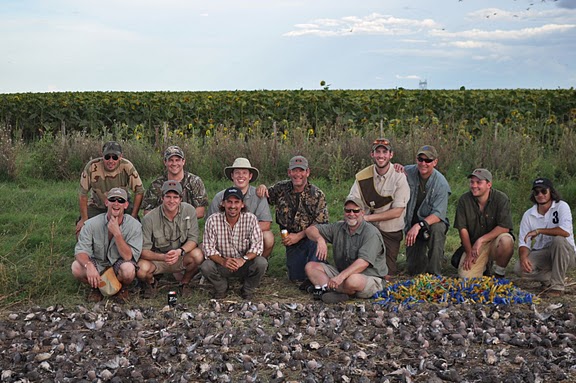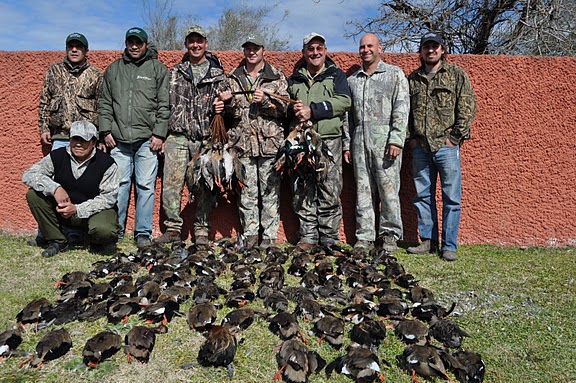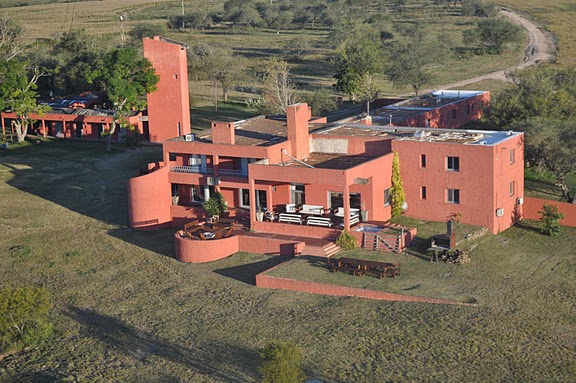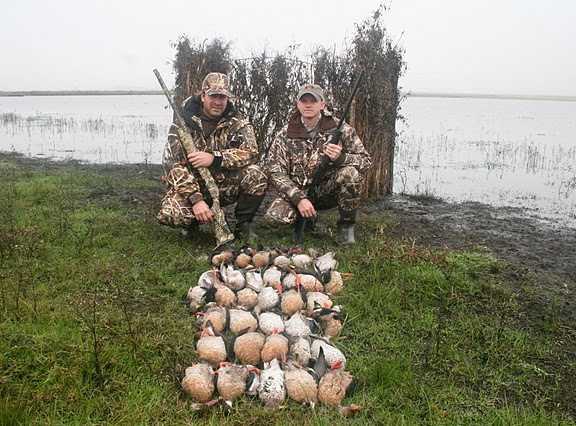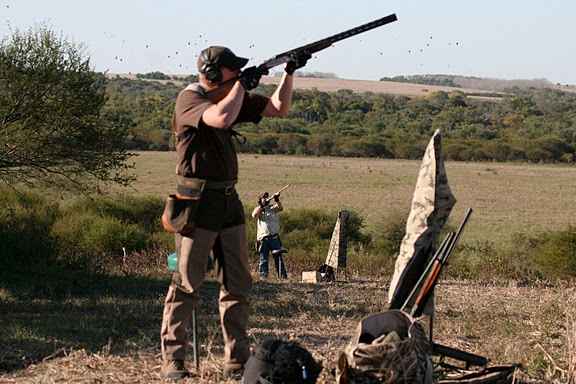 ESTANCIA SAN CIRILO, Mix Bag Hunting (May – Sept 15th)
Rio Negro province is located in the in the northwest region of Uruguay near the border of Entre Rios Argentina. The lodge is approximately 215 miles from Montevideo, the capital of this small country.
Most commonly, shooters traveling on international flights to Uruguay and Montevideo International Airport will be met by a San Cirilo Lodge representative who will assist with gun clearance, if necessary, and who will transport the group to San Cirilo Lodge. The drive is approximately 3.5 hours through scenic rural Uruguay via paved highway.
Sitting atop a hill with sweeping views of the Uruguayan countryside and the famous Rio Negro pigeon roost, San Cirilo Lodge serves as the ultimate retreat for hunters.
San Cirilo offers all game birds in Uruguay, ducks, doves, pigeons and perdiz, as well as Golden Dorado the tiger of the rivers.
The lodge's uniquely modern exterior can be deceiving; it functions beautifully as a hunting lodge. With six bedrooms and five bathrooms, the lodge can accommodate up to twelve hunters at a time. There is a grand living room and lounge, a separate dining area, a gun and tackle room and a popular outdoor fire pit with sitting area plus pool table and open bar. Guests of San Cirilo can expect traditional Uruguayan cuisine prepared by a professional chef, accompanied by fine regional wines. Internet access is fully available at the lodge, as is phone service and direct TV as well as A/C in all rooms.
Length of Trip
5 days 4 night's accommodations in an Estancia
Price
$3900pp  
Non-hunters pay a fee of U$S 390 per person per day.
Options: Add on Male deer hunting at estancia
Price Includes
4 days hunting (two ½ days on arrival and departure and three full days)
all meals and beverages
open bar
professional assistance at airport
hunting guides and bird boys
fields transportation
soft drinks and café at fields
all local taxes
5 star accommodations
boot cleaning and gun cleaning twice a day
wi fi internet in all rooms and public areas
maid service,
pool table & merchandising of Blackriver Outfitters available
Does Not Includes
Airfare
Gratuities
items of personal nature
gun rental U$S 65
U$S 300 single passengers travelling before or after shooting party
U$S 100 each for groups less than 4 hunters to cover customs expenses
transfers from Montevideo or Bs As U$S 60 per way
open box of shells U$S 14 per 12 ga 20 ga and U$S 18 per box of 28 ga, 410 ga subject to availability request 6 month in advance
gun permits U$S 250 per hunter for total stay
single room per night U$S 150 (subject to availability)
hotel accommodations in Montevideo/ Bs As, City tours U$S 200 per day per hunter
Massage U$S 65 (45 minutes massage)
Checks fee 3% Notice we do not accept Credit Cards of Travelers Checks.
Hunting
Afternoons include a volume dove shoot with famous high volume shooting in the roost, or just at the property 5 minutes from the estancia. Based on the rotation of population and weather, ducks or pigeons may be an option in the afternoon shooting.
Notice that all perdiz over pointing dogs hunting is provided at the property within walking distances.
Estancia San Cirilo offer five different species from the same lodge with extra 6th specie Dorado fishing if desire all basically 5 to 35 minutes from the Estancia.
Season
Perdiz over dogs – May-July
Ducks – May 15 – September
Pigeons – May – September
Doves – Year around
Golden Dorado – Year round
Typical day
· 6:00 am – Breakfast
· 6:30 am – Trip to shooting fields ducks, pigeons and perdiz
· From 7:00 to 11:00 am – Non stop shooting fun
· 12:00 return to the lodge for lunch
· 2:00 pm More shooting fun
· Return with sunset and dinner at 5:00 pm
Meals
American breakfast is served at the lodge consisting of juice, coffee, tea or milk; eggs, bacon and toast with butter and delicious marmalades.
Our lunch is the classic barbecue, with steak, sausages, and salads as well as all variety of gourmet dishes.
Excellent wines, beer, soft drinks accompany the typical meal.
Gourmet dinners are served at the lodge, followed by delicious, homemade desserts.
Exceptional regional wines accompany all meals.
Beer and soda are available throughout the day.
Health
Information provided is general please consult with your physician
Travel Insurance
Travel insurance is recommended for all travel to protect your investment and in case of emergencies.
Passport
Required
Information and prices subject to change without notice
Notice: NO VISA IS REQUIERED FROM URUGUYAN EMBASSY