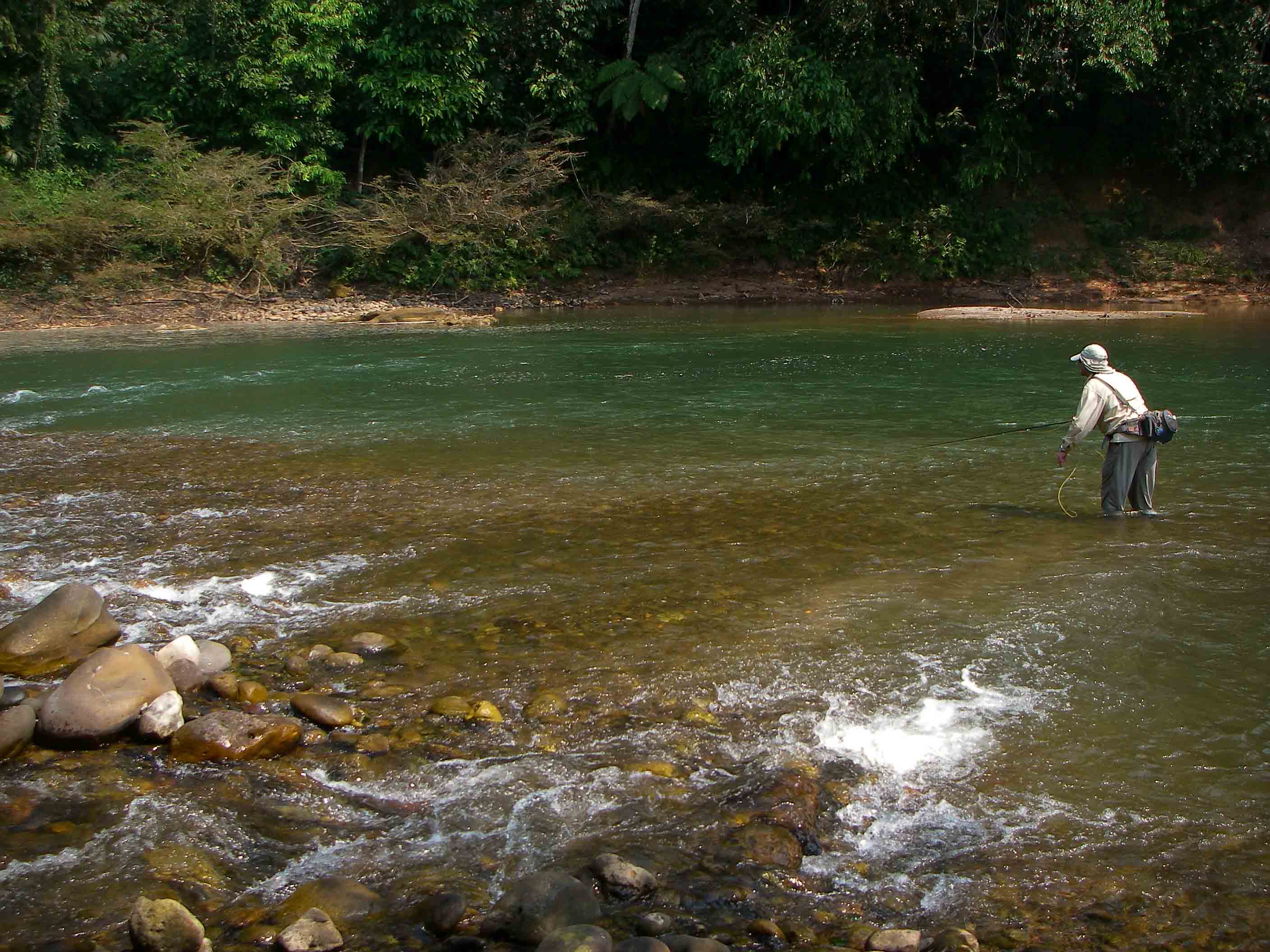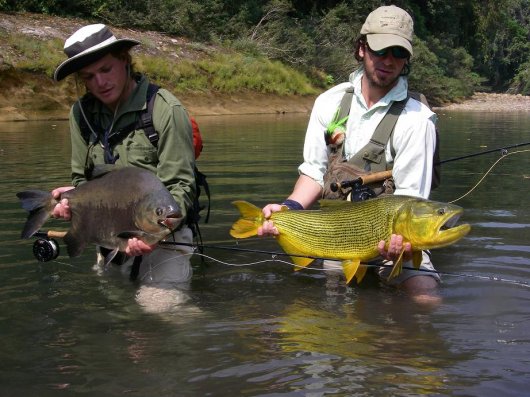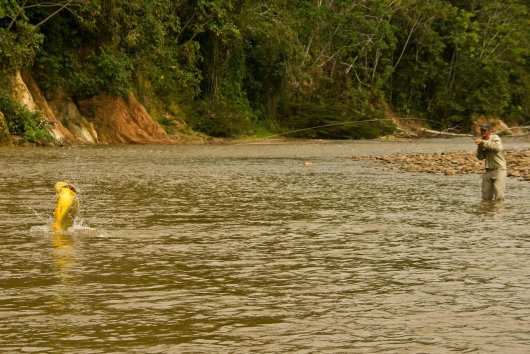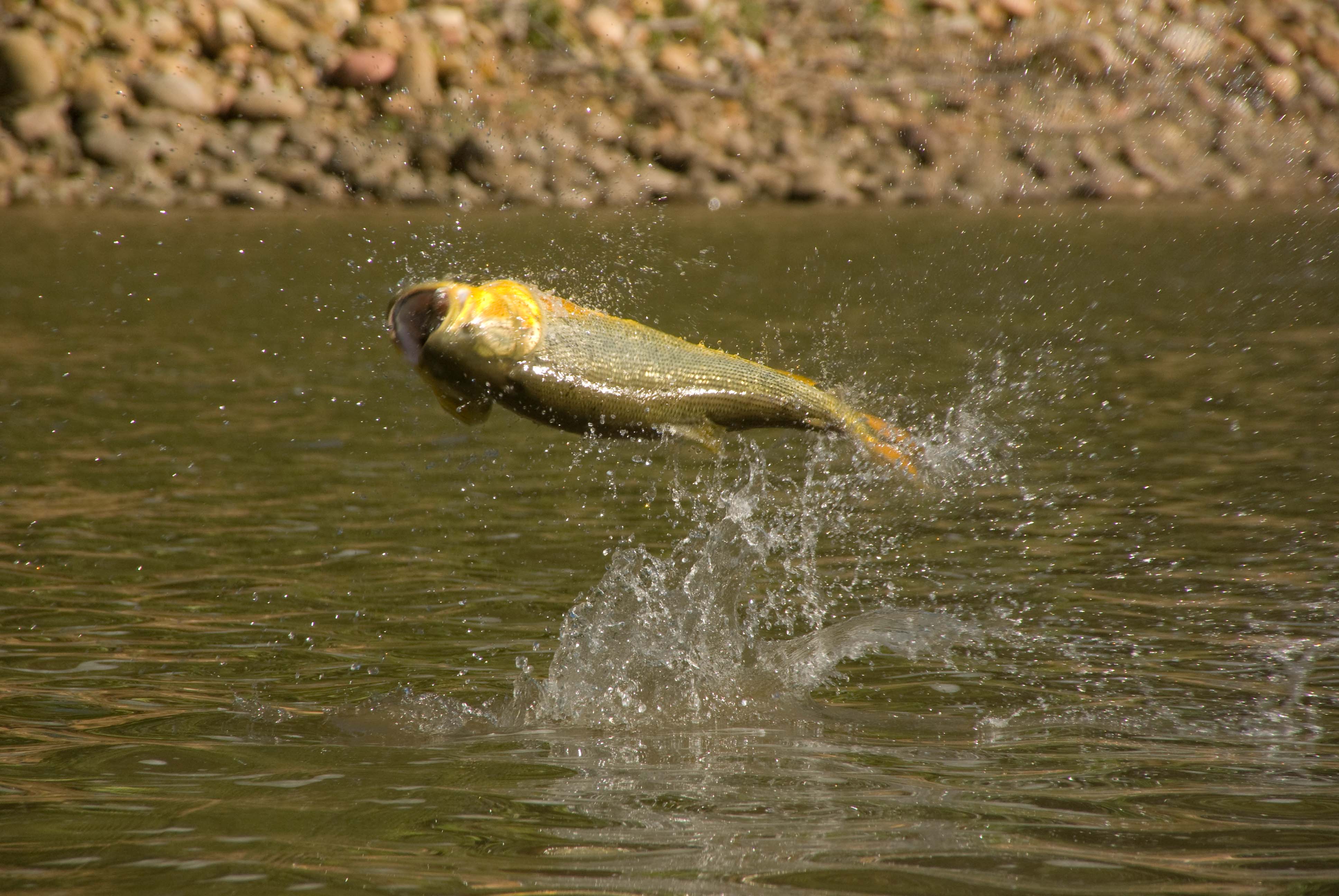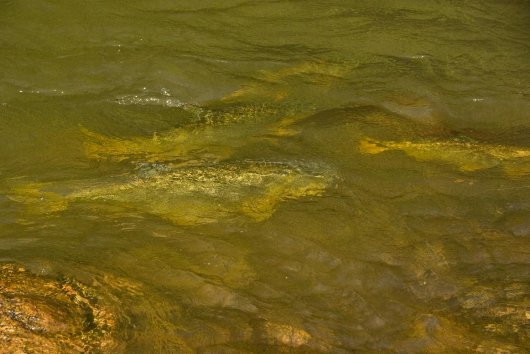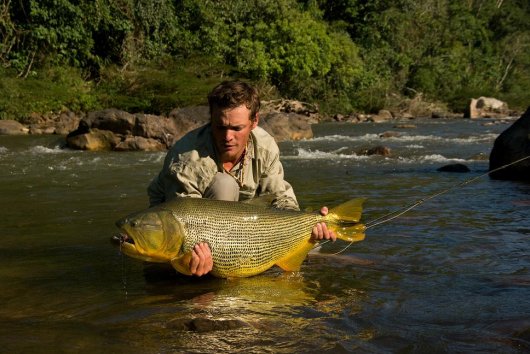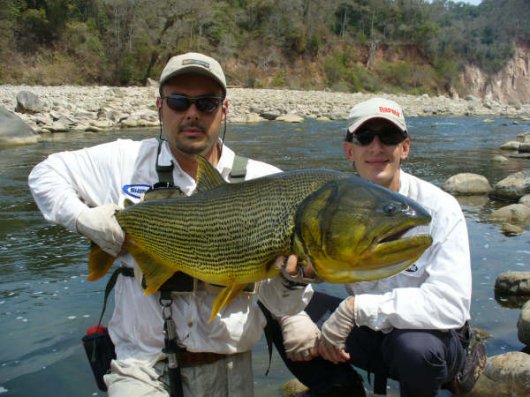 Lodge
Tsimane is located within a National Park and Indigenous Territory, where the Amazon jungle meets the Andes mountain chain. The landscape is incredible and its rivers are streams of clear water running through the jungle and the mountain, with wading-and-sight casting-friendly banks. The jungle remains in an absolute virgin state and it is probably one of the most voluptuous natural expressions in the world. Millions of butterflies of impossible colors flitter in the warm breeze, the rumor of hundreds of hidden birds and animals resounds from the depths of the jungle.
The rivers are inhabited by two different dorado species and other fish from the Amazon basin, such as the pirapitinga or Amazon pacú and the yatorana (pound by pound, one of the strongest fresh-water species)
Tsimane blends, like no other destination on Earth, the best aspects of fly fishing: sight casting, freestone wading, light tackle, floating lines; majestic sceneries, mountain rivers with clear, virgin waters; and four extremely sportive species reaching very significant sizes. The combination of such characteristics results in an overwhelming experience. And this is where we offer our most ambitious operation.
Every week, groups of only 4 anglers – staying in full-comfort luxurious tent lodges which offer the best international cuisine – set off every morning in boats specially developed for this environment, led by an expert dorado fly-fishing guide and a native assistant. In Tsimane, fresh water fishing reaches its pinnacle. It is a new challenge introducing the wildest version of dorado, undoubtedly the most powerful and beautiful fish which can faced with a fly rod. We have a long term exclusivity contract that guarantee the truly remarkable experience, protecting the place from other operations. Also we are supporting the National Park conservation, the local Indian communities and developing a biological research study of all species on the area.
About the accommodations this is a Luxury Camp. The Guests Rooms are luxury tents imported from South Africa, just like the ones used in the African Safaris. Each has full of space for two guests and a private bathroom with hot water and Electric light. Satellite telephone and internet available at the lodge.
Length of Trip
10 days 9 nights
Price
$7200.00
Price Includes
9 nights, 6 full days fishing in our lodge, all inclusive services, charter flights in/out Santa Cruz de la Sierra
Does Not Include
International air, travel insurance, items of a personal nature
Fishing
Fishing is done 90% going upstream with the canoes, stopping before the fishing spots (runs and tails of pools), fish walking those spots then jumping back to the boats again to the next run. Usually they are quite close (50 to 150 yards) so sometimes its not even worth to go in the boat. The wading is quite friendly but walking overall is considerable. 6 to 9 weight rods, with good quality and strong drag reels, floating lines and intermediate tip lines.
Species of Fish
Dorados, Pirapitingas Jatuaranas and Affinis
Season
August to October
Weather
Boats
21ft aluminum canoes with two seats for guests and two platforms for guides, a small motor, room for a big cooler, rod holders, etc.
Guides
Local seasoned guides
Other Activities
reading
Meals
excellent cuisine chefs from Argentina
Health
Information provided is general please consult with your physician
Travel Insurance
Travel insurance is recommended for all travel to protect your investment and in case of emergencies.
Passport
required
Information and prices subject to change without notice