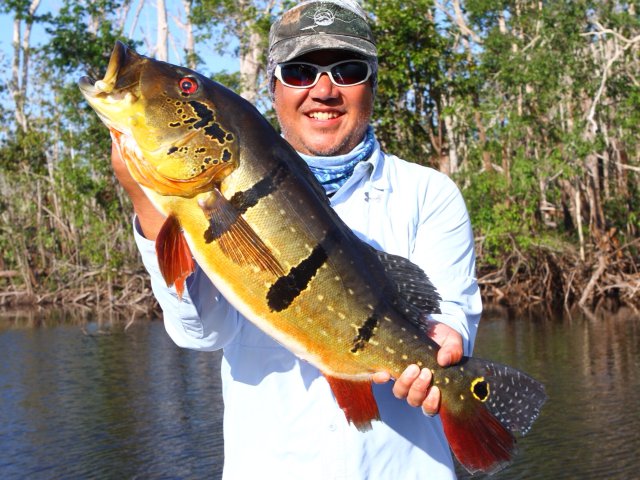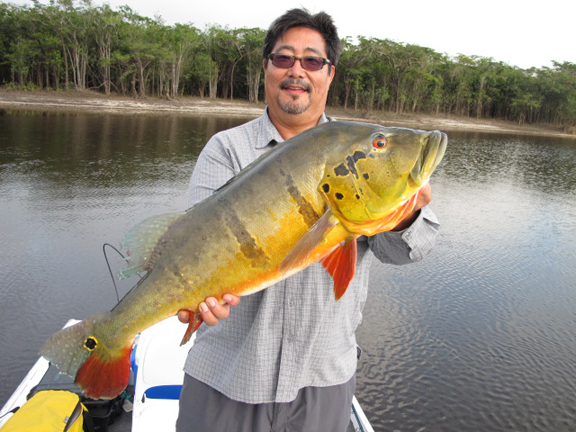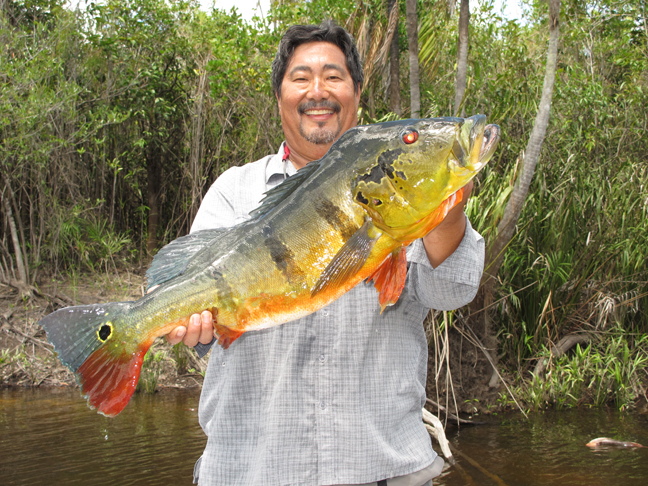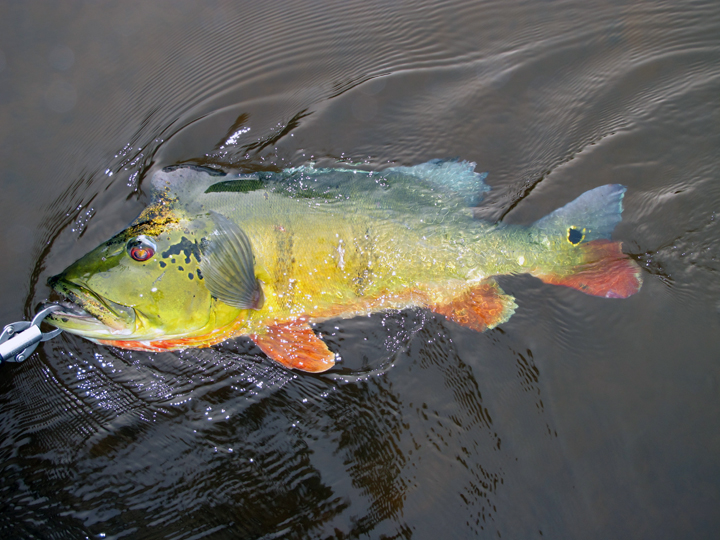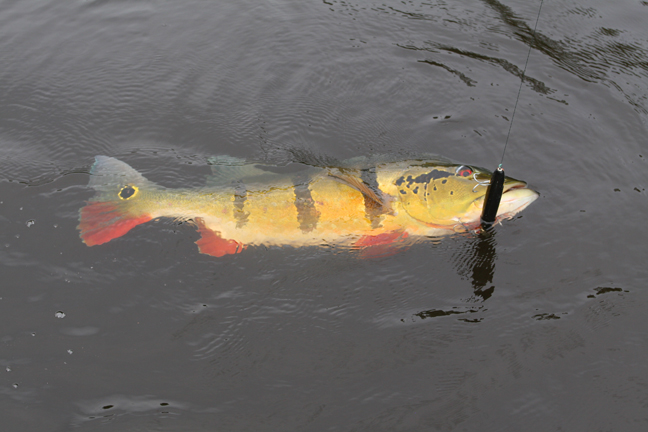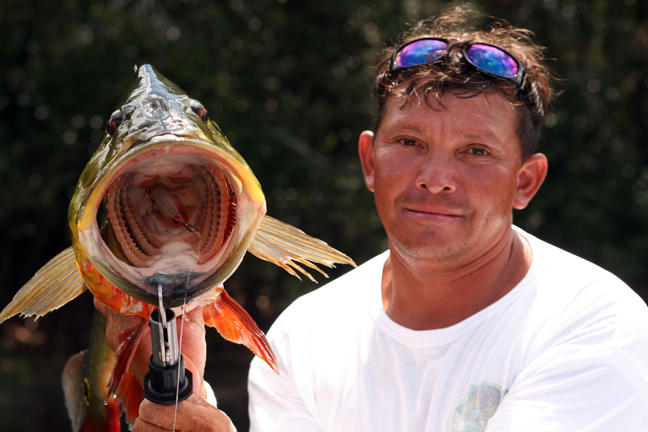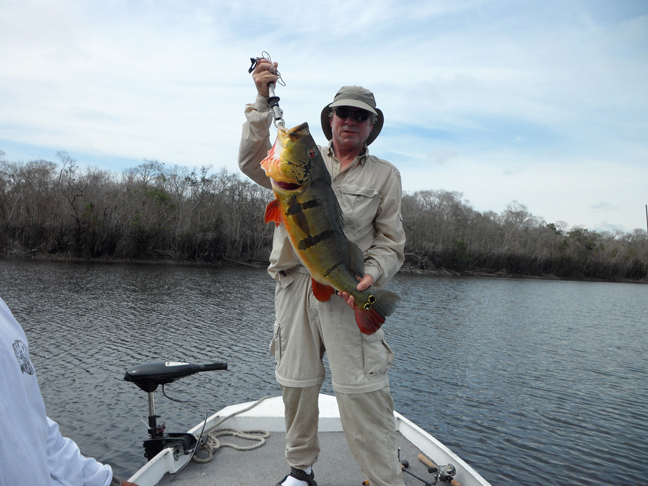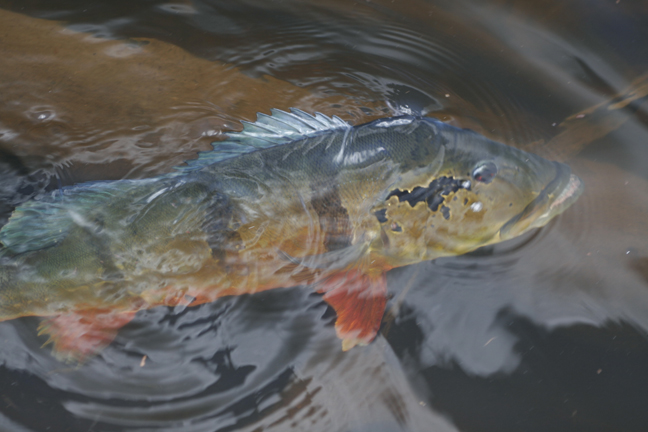 Rio Negro, Amazonas, Brazil
This week we were able to move up further up the river by a day due to the rainfall late last week that the previous group experienced on the last couple days. Fishing has been good this week with 3 fish over 20lbs and 3 big fish estimated over 20 lost. Veteran angler Dave Powell missed a 22lb+ fish the first day. His partner John Finley was able to land his best fish of the week at 20lb. The guys from Tackle Tour were able to land several fish in the upper teens. I was able to land a big mean peacock at 23lb yesterday along with a 22, 20, 3-19's 3-18s during my stay. Fishing was very good with numbers of fish and size this week. It was mostly a finesse bite with the water cooling and the prop baits were starting to work more. Lots of empty dirty beds, seems like fish were more on inside points, outside bends and wood structure.
The weather this week we had was a couple hot days, couple overcast days, and about a day and a half of rain. Really nice overall weather rain was welcomed and didn't seem to affect the bite that much.
We happen to be up by River Plate anglers on two rivers and they didn't have very good luck due to traffic and guide's lack of experience on this river as told by visiting American clients on their way out stopping by the Tayacu. Those little green Jon boats look very uncomfortable to fish out of.
Now I want to share a experience that happened on the morning of Wed17Nov. it was a rainy day, we set out to take jumping fish photos as the morning progressed it started to rain very heavy and my experience peacock fishing is normally slow, I was able to hook and land ten small fish in about 3 hours.
My guide asked me do you want to visit a lagoon that is landlocked we would have to walk a ways and I and thought well the day is shot because of the rain, might as well go on a nice adventurous walk through the jungle with our two rods, a boga grip and pliers. As we walked my guide advised me where to step certain places were too soft and I would sink in so we crossed a on a bunch of logs I lost balance and sunk into my knees so my guide quickly cut me a couple walking sticks. When we reached the other side of the end of the cove we walked around as he pointed out where to cast and caught a couple more fish. There were a lot of fallen wood along the shoreline. I left my guide and went walking to next area where there was an opening with all the fallen timber in a cove, we both had lots of snags casting from the bank.
Thinking to myself, if I get a good one it would be hard to land it with all the fallen hardwood. Well on my second cast I hook a big peacock 15 feet from the bank and it took off like a freight train pulling drag heading for the center of the lagoon it peeled more than half a spool of 65 lb braid on a Shimano 200 E7 I yelled in Portuguese "Grange peche", "muito forse", strong fish, my guide started running towards me, as I was fighting my fish, it jumped clean out of the water as I see it my mouth dropped I said to myself this is much bigger than yesterdays 23lber. The head was massive and her belly was full of eggs, as I was fighting with her back and forth for what seemed a long time then in mad dash she turned right and she went right into the wood. John Finley and I had a conversation at breakfast about putting the fish into free spool and normally the fish wouldn't kamikaze into the wood and it would swims out, by that time the guide was in the water trying get the fish out of the wood with success because she was not in that deep. He yelled come closer to me as he was in waist deep water, so I moved as fast as I could, shuffling to scare the rays away. I reached my guide and the fish was free and fighting she took another shot run we were away from most of the wood snags. As we were both very excited at the size of this fish we were screaming like little kids as the monster peacock was whipped.
As we brought the fish closer to land with the Boga grip and tried to secure her we found that her lip was so big we couldn't get the 30# Boga grip around her lower lip, she had a big red spot the size of a silver dollar right in the middle of her lower lip we tried to shove in the Boga grip three or four times but the grip wouldn't open wide enough then she started to revive with a big kick were started to panic and we both tried to just grab the fish but with two 4X owner treble hooks we were worried about getting hooked, the fish struggled violently back and forth again brought her back we tried to get the boga in her mouth a couple more times, she struggled violently, but this time the lure came out and the fish slowly swam away as we were feverishly trying to grab her, after further inspection the rear Owner 4X hooks were smashed in. What a day to remember, a good estimation that she was well over 25lb. The guides and the staff of the Tayacu had never heard or experienced this before. A very special day to remember and an experience my guide and I will never forget for years to come.
The rest of the gang caught several fish in the teens up to 19lbs. in the rain and during the lull. Just about everyone had their personal best on this trip.
If you are interested in joining us for a Adventure Travel Alliance hosted trip in Jan 30th 2011 and Oct 2011 please give us a call or email us for more information.
This entry was posted on Tuesday, November 23rd, 2010 at 6:09 pm and is filed under
News
. You can follow any responses to this entry through the
RSS 2.0
feed. You can
leave a response
, or
trackback
from your own site.